The Resort
Mana Kai Maui "Where Heaven Meets Earth"
The Mana Kai Maui (Spirit by the Sea and Maui) is a sparkling jewel and places you right where you want to be; literally steps from the soft sands of Keawakapu (Forbidden Cove) Beach. Both the Mana Kai Maui and Keawakapu Beach are located at the far southern end of South Kihei road, bordering the entrance to Wailea. At one mile long, the beach is a popular swimming, snorkeling and the perfect location to relax and enjoy the beauty of Maui.
MEET OUR MANA KAI MAUI OHANA (Family)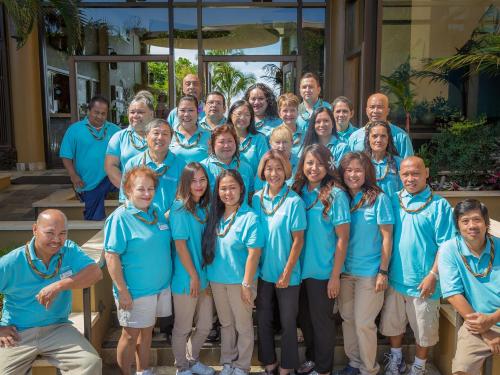 WHERE ALOHA LIVES.
We do things differently here at Mana Kai. Why? Because we're designed around one very simple idea ~ to cater to your needs. Because we never forget why we're here. For you.
The 27 employees of the Mana Kai Maui ohana (family) strive to preserve the "Aloha Spirit". Our guests' have been returning for many years. Some even go back to the year we opened in 1973. Generations of visitors return annually to be greeted with Aloha by name. Just as our visitors return year after year, we have the good fortune of retaining a long time staff with a handful of employees at 20+ years of service. It is this familiarity that embraces the soul and spirit of the Mana Kai Maui ~ where true Aloha lives.
This aloha extends to free wi-fi access, free local phone calls, daily maid service, free parking, free cable flat screen tv's complimentary pool towel exchange, gas BBQ grills, laundry facilities on every floor (tokens may be purchased during front desk hours) and no resort fee. Our 1 and 2 bedroom condominiums have fully equipped kitchens.
The Mana Kai Maui Resort is comprised of 98 (2 bedroom) individually owned condominiums.
The Mana Kai Maui Hotel, LLC is an owner partnership company that manages more than half of the 98 condominiums from the partnership operated offices and front desk, located on our lobby level at the Mana Kai Resort. We are the official on-site rental program, and are here to assist you with any questions or requests you may have. Our front desk is open daily from 8:00 am to 7:00 pm HST. Our reservations staff is also located on site and available Monday - Friday from 8 am to 4:30 pm, HST. Closed on the weekends and most major Holidays.
Transient Accommodations Tax: TA-002-327-3472-01
General Excise Tax: GE-002-327-3472-01
Please contact us with any questions you may have. Or, if you just need some Aloha contact.